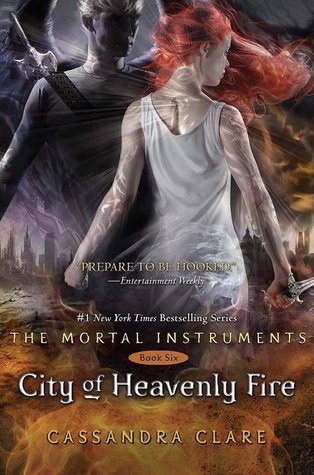 Publication Date: May 27, 2014
Publisher:
Margaret K. McElderry
Format: Hardcover
Page Count: 733 pages
Source: Bought
Series: The Mortal Instruments #6
Synopsis:
ΕRCHOMAI, SEBASTIAN HAD SAID.

I am coming.

Darkness returns to the Shadowhunter world. As their society falls apart around them, Clary, Jace, Simon and their friends must band together to fight the greatest evil the Nephilim have ever faced: Clary's own brother. Nothing in the world can defeat him — must they journey to another world to find the chance?
Review:
LOVE LOVE LOVE IT!!!! SO GOOD AND I AM SO FREAKING HAPPY!! I LOVE THE ENDING! IT WRAPPED THE WHOLE SERIES TOGETHER AND IT'S AMAZING!! SAD TMI ENDED BUT SUCH AN AMAZING EXPERIENCE!!! SORRY FOR CAPS, I'M REAL HAPPY HOW THE ENDING TURNED OUT EVEN THOUGH IT WAS STILL KINDA SAD!! DIDN'T EXPECT A LOT OF STUFF TO HAPPEN IN THE EPILOGUE AND ENDING AND SUCH!

Beginning reaction:


Almost middle reaction:
Middle reaction:
Near ending:

At 87% reaction:
Ending:
Aftermath: