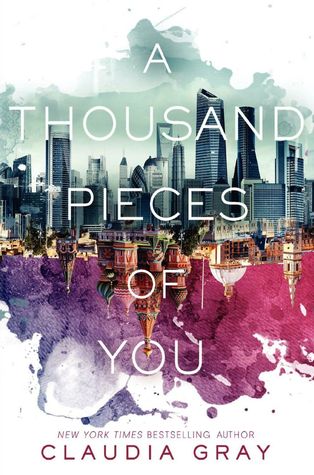 Expected Publication Date: November 4, 2014
Publisher: Harper Teen
Format: ARC
Page Count: 368 pages
Source: Publisher
Series: Firebird #1
Synopsis:
Marguerite Caine's physicist parents are known for their radical scientific achievements. Their most astonishing invention: the Firebird, which allows users to jump into parallel universes, some vastly altered from our own. But when Marguerite's father is murdered, the killer—her parent's handsome and enigmatic assistant Paul—escapes into another dimension before the law can touch him.

Marguerite can't let the man who destroyed her family go free, and she races after Paul through different universes, where their lives entangle in increasingly familiar ways. With each encounter she begins to question Paul's guilt—and her own heart. Soon she discovers the truth behind her father's death is more sinister than she ever could have imagined.

A Thousand Pieces of You explores a reality where we witness the countless other lives we might lead in an amazingly intricate multiverse, and ask whether, amid infinite possibilities, one love can endure.
Review:
A Thousand Pieces of You was a fantastic young about science fiction book with surprising twists ans secrets and romance.
Marguerite was a great heroine but at times I wasn't so sure about her. She's very determined to avenge her father. Her tendency to jump to conclusion and trusting people who she didn't really know was a little frustrating. She's not perfect but she was still a good main character.
From the moment I read the synopsis I knew Paul did nothing wrong or why he was accused of murdering Marguerite's dad. He's very sweet and loyal to those he cared about and he's also very smart. He is an assistant for her father and when her father did die, he went to escapes to another dimension with the Firebird with him.
The world in this book was very unique. It does with the whole time travel time and going to different dimensions kind of thing. I liked how the author describe each dimensions to us every time the main characters entered to one. Each dimension was different. One was really high advance technology, one was normal looking, and stuff like that. With different settings, the vibe I got was it told us different stories so it's like several stories in one book.
I like the romance. It was different. My favorite scenes was in Russia and that's all I'm gonna say about it.
The book was definitely fast paced and filled with time travel. I wonder what's the next adventure with Marguerite and Paul...
ARC provided by
Edelweiss

and Harper Teen
Rating: