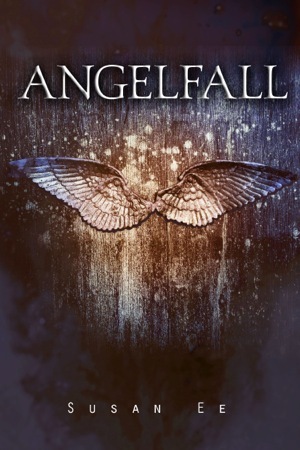 Publication Date: May 21, 2011
Publisher: Skyscape
Format: Paperback
Page Count: 283 pages
Source: Bought
Series: Penryn & the End of the Days #1
Synopsis:
It's been six weeks since angels of the apocalypse descended to demolish the modern world. Street gangs rule the day while fear and superstition rule the night. When warrior angels fly away with a helpless little girl, her seventeen-year-old sister Penryn will do anything to get her back.

Anything, including making a deal with an enemy angel.

Raffe is a warrior who lies broken and wingless on the street. After eons of fighting his own battles, he finds himself being rescued from a desperate situation by a half-starved teenage girl.

Traveling through a dark and twisted Northern California, they have only each other to rely on for survival. Together, they journey toward the angels' stronghold in San Francisco where she'll risk everything to rescue her sister and he'll put himself at the mercy of his greatest enemies for the chance to be made whole again.
Dark, action packed, snarky, and just fantastic
.
This is a dark, post apocalyptic story with evil angels, murder, and creepy stuff.
This book is really hyped in the reading community and I now understand why. I loved how the creepy stuff is mixed with comedy, fantastic characters and the writing is so good.
Susan Ee's writing is so good! The world she builds around us is insane and she isn't afraid of writing certain scenes. With some action/apocalyptic books, the scenes are sometimes poorly written and bland but these are heavy with graphic human/angel experiments, murder, and fighting scenes.
So, since the angels came down to earth, they have been destroying shit, setting things on fire, bring disasters, etc. just for funsies. When I think of angels, one: I think of Shadowhunters, two: I think of saints and nice glowing halo angels. These kind of angels, are bat shit crazy and evil. Because of them, the entire world is in chaos.
The main character, Penryn and her family, are trying to survive. To sum up her family, her mom is mental and insane, and her sister, Paige, is sweet, innocent, and paralyzed. They are on the move and in hiding. Then they see a pack of angels fighting and arguing. It got to the point where the angels sliced off another angel's wings. Still hiding, an angel sees her so she tosses a sword to the wingless angel so he can fight them off. As punishment for Penryn's actions, the angels take her sister.
Penryn takes the wingless angel, Raffe, as "prisoner" -not really, and tries to find her sister with his help. Their first real conversation and encounter was a bust and then throughout the beginning. I mean Raffe did try and choke her. Raffe is really a pro-activist on hating humans and nonhuman relationships, but when he's with Penryn, it's conflicting for him because he's trying to push her away but we all know he has feelings for her.
So this is the first of five books. I have the sequel ready and I hope to read it very soon. I can tell this is an amazing book and more amazing stuff will come.