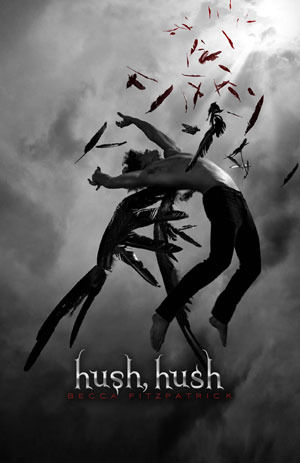 Publication Date: October 13, 2009
Publisher: Simon & Schuster BFYR
Format: E-book
Page Count: 391 pages
Source: Borrowed
Series: Hush, Hush #1
Synopsis:
A SACRED OATH
A FALLEN ANGEL
A FORBIDDEN LOVE
Romance was not part of Nora Grey's plan. She's never been particularly attracted to the boys at her school, no matter how hard her best friend, Vee, pushes them at her. Not until Patch comes along. With his easy smile and eyes that seem to see inside her, Patch draws Nora to him against her better judgment.
But after a series of terrifying encounters, Nora's not sure whom to trust. Patch seems to be everywhere she is and seems to know more about her than her closest friends. She can't decide whether she should fall into his arms or run and hide. And when she tries to seek some answers, she finds herself near a truth that is way more unsettling than anything Patch makes her feel.
For she is right in the middle of an ancient battle between the immortal and those that have fallen - and, when it comes to choosing sides, the wrong choice will cost Nora her life.
Review:
Well, it took me two years to finally write a review for this series.
Nora Grey is a sixteen year old girl who is a high school sophomore. She lives with her single, widowed mother. She has a mundane life until one day she meets her biology partner Patch. Patch is a very mysterious, hot, and arrogant person. Like any person would, Nora is attracted to him but still little wary of him.
Ever since Patch entered Nora's life, strange events starts to happen. Nora thinks that Patch might have something to do with it so she's conflicted to trust him or not. When she finally discovers Patch's secret, Nora is in a helluva trouble.
For me, Patch is like an emotional roller coaster. I love how self sacrificing he is. I love the storyline in general. It made me want to find out more about Nora and Patch. They are likable characters but in all honestly, sure they sometime frustrates you. One character in particular I just didn't like and it was Vee. She'd basically the only friend that Nora has but I just hated her.
Nora somehow reminds me of Clary from the Mortal Instruments series by Cassandra Clare but a lot worse. It's just the things she does where I and many others just disagree with.
There was some parts that are confusing but this book played out really good.