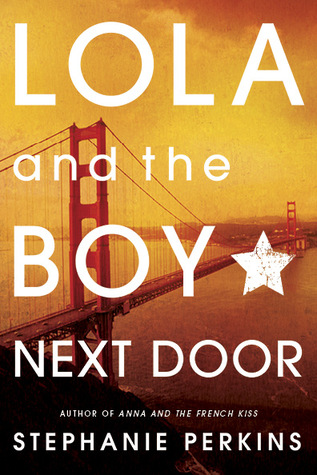 Publication Date: September 29, 2011
Publisher: Speak
Format: Paperback
Page Count: 338 pages
Source: Bought
Series: Anna and the French Kiss #2
Synopsis:
Budding designer Lola Nolan doesn't believe in fashion...she believes in costume. The more expressive the outfit--more sparkly, more fun, more wild--the better. But even though Lola's style is outrageous, she's a devoted daughter and friend with some big plans for the future. And everything is pretty perfect (right down to her hot rocker boyfriend) until the dreaded Bell twins, Calliope and Cricket, return to the neighborhood.

When Cricket--a gifted inventor--steps out from his twin sister's shadow and back into Lola's life, she must finally reconcile a lifetime of feelings for the boy next door.
Review:
Not as good as Anna and the French Kiss in my opinion.
So this is a companion novel for Anna and the French Kiss. This time, it's about Lola and Cricket but good news, Anna and St. Clair is in this book too and are secondary characters.
Before everything happened, Lola and Cricket was and still is neighbors. Cricket has a twin sister named Calliope who I FREAKING HATE! She's really athletic and famous and is on TV and on the Olympics and ... grr. I really hate for what she did. Back to the point, they were neighbors and Cricket left Lola to follow his sister's dreams. Now he's back and there is tension between them.
The characters. Remember when I said I loved the characters in Anna? Yeah this is opposite. I didn't like the characters -even the main ones sometimes too.
They could be whinny, and jealous, and annoying. *coughs Calliope*
This was like a telenovela. It was a really bumpy ride.
Even though it was like a rollercoaster of mixed feelings, it had its good moments too but not as many as I hoped there to be. I did like those heart-to-heart moments and where there's no drama.
The relationship between Cricket and Lola was kinda annoying because with all the drama going around. He still likes Lola and Lola still likes him. This is where all the annoying parts and jealousy parts are.
I felt sorry for Cricket. He confessed that he liked her after all these years and he was always there for her now. But guess what, Lola has a boyfriend.
It was still a good book but the character's behavior was the main problem. I would still recommend this because after everything, it still pulled together.