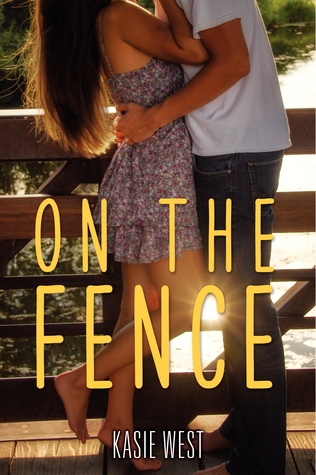 Expected Publication Date: July 1, 2014
Publisher: HarperTeen
Format: ARC
Page Count: 320 pages
Source: Publisher
Synopsis:
She's a tomboy. He's the boy next door…

Charlie Reynolds can outrun, outscore, and outwit every boy she knows. But when it comes to being a girl, Charlie doesn't know the first thing about anything. So when she starts working at a chichi boutique to pay off a speeding ticket, she finds herself in a strange new world. To cope with the stress of her new reality, Charlie takes to spending nights chatting with her neighbor Braden through the fence between their yards. As she grows to depend on their nightly Fence Chats, she realizes she's got a bigger problem than speeding tickets-she's falling for Braden. She knows what it means to go for the win, but if spilling her secret means losing him for good, the stakes just got too high.

Fun, original, and endearing, On the Fence is a romantic comedy about finding yourself and finding love where you least expect.
Kasie, you are my newest favorite contemp writer!

I will forever read anything that she writes.
Charlie Reynolds. She's something alright. Off the bat, she's a tomboy, she hardly knows anything that normal girls would do, and she mostly fits around with guys. And by guys I mean her three brothers and her next door neighbor Braden.
After a speeding ticket gets Charlie in trouble, she's forced to get a hob at a boutique where she finds a new awakening.
Even though Charlie is having the best time of her life, living in a house filled with guys and only one girl isn't that great as it seems. Things at home are starting to be difficult for her and she finds herself falling for the boy next door -hard.
The romance between Charlie and Braden is slow and it's based on friendship. They're best friends prior to the book and throughout the book, their relationship progresses. It wasn't rushed or fake. Their chemistry was relatable and real.
My favorite part of their relationship are the late night chats on the fence. At those moments, they are vulnerable and are in an alter universe and there they can openly say what they feel like.
Romance aside, there is drama. Each character has a little drama going around with them and that what makes these characters relatable. They're not perfect and especially for Charlie, she tries to discover herself. If that means hanging out with girls and getting into makeup, then go for it. You get to see the characters grow throughout the book and challenges and secrets that happen.
I know I don't make any sense and that's because the book is hard to explain and what the characters go through and self discovery... long story short really recommend this. It's also a great summer read.
ARC provided by Edelweiss and HarperTeen