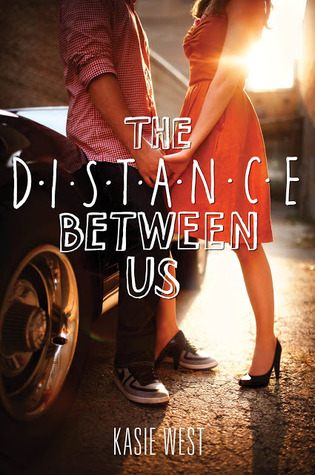 Publication Date: July 2, 2013
Publisher: HarperTeen
Format: E-book
Page Count: 312 pages
Source: Borrowed
Synopsis:
Seventeen-year-old Caymen Meyers studies the rich like her own personal science experiment, and after years of observation she's pretty sure they're only good for one thing—spending money on useless stuff, like the porcelain dolls in her mother's shop.

So when Xander Spence walks into the store to pick up a doll for his grandmother, it only takes one glance for Caymen to figure out he's oozing rich. Despite his charming ways and that he's one of the first people who actually gets her, she's smart enough to know his interest won't last. Because if there's one thing she's learned from her mother's warnings, it's that the rich have a short attention span. But Xander keeps coming around, despite her best efforts to scare him off. And much to her dismay, she's beginning to enjoy his company.

She knows her mom can't find out—she wouldn't approve. She'd much rather Caymen hang out with the local rocker who hasn't been raised by money. But just when Xander's attention and loyalty are about to convince Caymen that being rich isn't a character flaw, she finds out that money is a much bigger part of their relationship than she'd ever realized. And that Xander's not the only one she should've been worried about.
If you are planning to read this, expect to read it nonstop until you finish.
The Distance Between Us is a great summer read. I could not put this book down I read it in four hours because I just had to know what happened between the two main characters.
Lets just say, don't judge a book by its cover. That's the opposite of what the main character Caymen does. Just a side note, throughout the whole book, I thought it said Carmen not Caymen. I've been calling the main character by the wrong name. Back to the point, Caymen is poor. She and her mother own a porcelain doll shop and living right above it too. One day, Xander Spence comes walking in looking all rich and fancy and picks up a doll for his grandmother.
Then he beckons her over to him and she knows he is an ass but she just treats him with her natural sarcastic self and for some reason that does not scare him away.

Without even knowing him, she thinks of him as an ass, rich, and above of everyone. But when she gets to know him more, she's wrong about him.
The first thing that pops in my head to describe Caymen is sarcastic. She is VERY sarcastic and head strong. I think that's one of the reasons why every time Caymen declines Xander's existence, he always come back and doesn't give up on her. Xander is charming and I guess stubborn just like Caymen. Xander may be oozing rich and everything but he's definitely not a snob or using her for funsies. It's one of those rich vs poor stories.
This was a very light and fun contemp book. I am looking forward to seeing more books by Kasie West. I really do recommend this book!