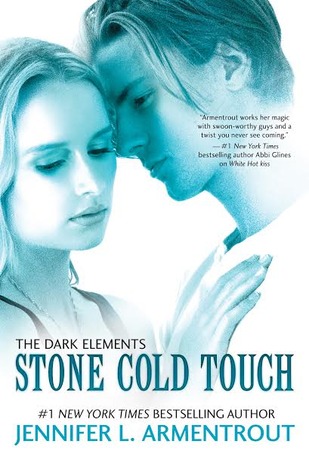 Expected Publication Date: October 21, 2014
Publisher: Harlequin Teen
Format: ARC
Page Count: 446 pages
Source: Author
Series: The Dark Elements #2
Synopsis:
Every touch has its price

Layla Shaw is trying to pick up the pieces of her shattered life—no easy task for a seventeen-year-old who's pretty sure things can't get worse. Her impossibly gorgeous best friend, Zayne, is forever off-limits thanks to the mysterious powers of her soul-stealing kiss. The Warden clan that has always protected her is suddenly keeping dangerous secrets. And she can barely think about Roth, the wickedly hot demon prince who understood her in ways no one else could.

But sometimes rock bottom is only the beginning. Because suddenly Layla's powers begin to evolve, and she's offered a tantalizing taste of what has always been forbidden. Then, when she least expects it, Roth returns, bringing news that could change her world forever. She's finally getting what she always wanted, but with hell literally breaking loose and the body count adding up, the price may be higher than Layla is willing to pay…
Jennifer L. Armentrout did it again and made an AMAZING sequel with just about everything that makes it perfect and a page turner!
I mentioned this before for sure but I will say this again, I have a love-hate relationship with Jennifer. I love how she creates these beautiful complex characters that everyone falls in love with but then she HAS to have something ruin my happiness. It's just WHY CAN'T I JUST BE HAPPY FOR A MOMENT! Now we all have to wait for another year for the last and final book. Ugh, Jennifer DX!!
Layla is still trying to figure out where she belongs with all the chaotic things happening around her. Her adoptive gargoyle family doesn't trust her because of the whole half demon, half gargoyle thing still and the only person who accepted for what she was is gone... or so might she thought.
There is so much I want to say about this book, but can't. I can't give anything away because of obvious reasons but I will say, lots of things happened in this man! Lots of it and drama. Then there's Jennifer who will throw you up mentally and emotionally. This especially happened with the whole Zayne vs Roth ordeal. I mean, now I can see how people are torn between the two of them but I'm still a hardcore fan for one and ONLY ONE of them.
To be honest, whoever she chooses, either way, there will be tears and heartbreak. I actually cried -a lot, maybe half the book. Now that Layla's love life is in our hands I REALLY hope she ends up with my choice. Again, either way, whoever she chooses, either one is a good choice for Layla. So it's basically 50/50.
Remember my last review on the first book where I said, "This ending ran me over, reversed, and crushed me..."? Yeah well this ending punched my face and knocked me out. It's just... THAT. ENDING. THOUGH. I know, it doesn't help or give any hints at what may happen. I guess you all have to go read it for yourselves.
ARC provided by the author