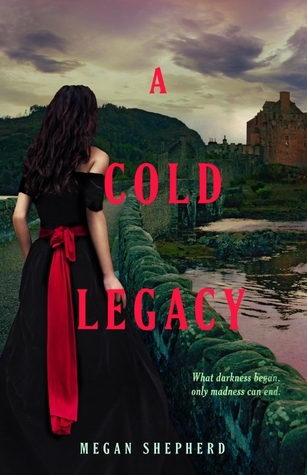 Expected Publication Date: January 27, 2015
Publisher: Balzer+Bray
Format: ARC
Page Count: 400 pages
Source: Publisher
Series: The Madman's Daughter #3
Synopsis:
After killing the men who tried to steal her father's research, Juliet—along with Montgomery, Lucy, Balthazar, and a deathly ill Edward—has escaped to a remote estate on the Scottish moors. Owned by the enigmatic Elizabeth von Stein, the mansion is full of mysteries and unexplained oddities: dead bodies in the basement, secret passages, and fortune-tellers who seem to know Juliet's secrets. Though it appears to be a safe haven, Juliet fears new dangers may be present within the manor's own walls.

Then Juliet uncovers the truth about the manor's long history of scientific experimentation—and her own intended role in it—forcing her to determine where the line falls between right and wrong, life and death, magic and science, and promises and secrets. And she must decide if she'll follow her father's dark footsteps or her mother's tragic ones, or whether she'll make her own.
Review:
Juliet and her friends runaway to a mansion in the Scottish moors. There, she is welcomed by servants and staff members who take care of the estate. While at the estate, Juliet gets an odd feeling about some of the staff and feels that some are hiding secrets.
So many twist and so many "holy crap" moments. It's a very bittersweet moment but satisfying. I love the ending and it summed up the series very nicely. Definitely love it.
This book did a decent job at wrapping things up and leaving the readers satisfied, yet wanting more. It's sad to let these characters go and move on.
I really recommend people to read this series. It's such a great YA gothic read filled with twists, romance, horror, and suspense.
ARC provided by Edelweiss and Blazer + Bray