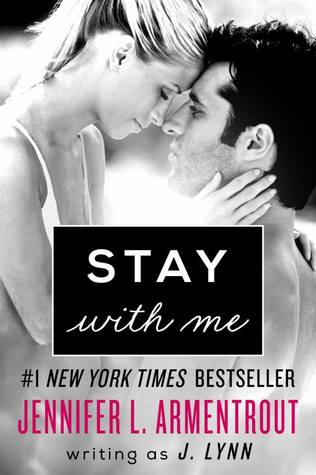 Expected Publication Date: September 23, 2014
Publisher: William Morrow Paperbacks
Format: ARC
Page Count: 438 pages
Source: Author
Series: Wait for You #3
Synopsis:
At 21, Calla hasn't done a lot of things. She's never been kissed, never seen the ocean, never gone to an amusement park. But growing up, she witnessed some things no child ever should. She still carries the physical and emotional scars of living with a strung-out mother, Mona—secrets she keeps from everyone, including her close circle of college friends.

But the safe cocoon Calla has carefully built is shattered when she discovers her mom has stolen her college money and run up a huge credit card debt in her name. Now, Calla has to go back to the small town she thought she'd left behind and clean up her mom's mess again. Of course, when she arrives at her mother's bar, Mona is nowhere to be found. Instead, six feet of hotness named Jackson James is pouring drinks and keeping the place humming.

Sexy and intense, Jax is in Calla's business from the moment they meet, giving her a job and helping her search for Mona. And the way he looks at her makes it clear he wants to get horizontal . . . and maybe something more. Before Calla can let him get close, though, she's got to deal with the pain of the past—and some very bad guys out to mess her up if she doesn't give them her mom.
Review:
I know I'm a hardcore Wait for You fan but this is a close second. I loved Calla and Jax's story.
This was definitely much more intense and had more action than any other book in the series. Reason for this is that this deals with drugs and intense subjects. The main character Calla, introduced in Be With Me, hasn't done that many things with her life. When she finds out her mother, Mona cleaned stolen her college funds and applied multiple credit cards with her name on it, she is forced to go back to her small town. Problem is, when she tries to confront her, she is skipped town, leaving Calla in debt. At her mom's bar, she meets a hot bartender named Jackson (Jax).
Because of her relation with Mona, the people her mom owes and acquainted with is now targeting her. From the moment Calla and Jax first met he tries and help Calla find her mom and protects her while at it too.
I love the relationship with Calla and Jax. Jax is a former Marine and with that, he is fiercely protective. He doesn't care what the consequences are, he WILL protect Calla and wants her safe. Not only he's protective but he's very trustworthy. All the things he tell Calla are the truth but she has doubted him a few times. One of the things I loved about him is how he would always make sure Calla is on the same page as him and throughout the book he tells her how much he wants her and complements her.
I understand that Calla can be a little insecure around people and sometimes even around Jax because of the long scar she has. But thank god Jax is a patient man. He's really different from the other leading male characters in the series. To be honest here, Cam and Jase has some big competition here because Jax is one hot piece of meat and his personality is such a turn on and it has me thinking, why can't most guys be like him?
This book is pretty big compared with the other books but it goes by so fast because I could not stop reading it. Jennifer L. Armentrout gets better and better with every book she writes. I really recommend people to read this book and series. I wonder who's story is next.
ARC provided by the author
Rating:
*Side note: While reading this, I could not stop singing 'Stay with Me' by Sam Smith