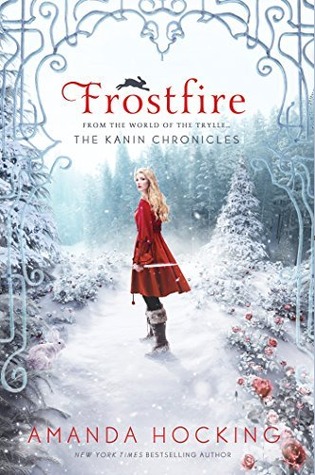 Publication Date: January 6, 2015
Publisher: St. Martin's Griffin
Format: E-book
Page Count: 321 pages
Source: Borrowed
Series: The Kanin Chronicals #1
Synopsis:
Bryn Aven is an outcast among the Kanin, the most powerful of the troll tribes.

Set apart by her heritage and her past, Bryn is a tracker who's determined to become a respected part of her world. She has just one goal: become a member of the elite King's Guard to protect the royal family. She's not going to let anything stand in her way, not even a forbidden romance with her boss Ridley Dresden.

But all her plans for the future are put on hold when Konstantin– a fallen hero she once loved – begins kidnapping changelings. Bryn is sent in to help stop him, but will she lose her heart in the process?
Review:
Frostfire is the first book of the Kanin Chronicles, which is a spinoff of the Trylle trilogy. You don't really have to read Switched, Torn, and Ascend to understand the Kanin Chronicles but I would recommend it since there are character crossovers and it's from the same universe. Also, it's a really good series that I very much enjoyed.
This features a different type of troll, the Kanins. The Kanins are the most powerful of all the troll tribes. They have their specially trained guard known as the Högdragens meaning that they are most definitely powerful. The Kanins also have a special ability that can change their skin color to blend into their surroundings, like a chameleon.
The main character, Bryn, is
half Skojare, half Kanin. She's alway been an outcast because of who she is and how she looks.
Other tribes tend to be darker: olive skin, usually brown, green, or grey eyes, brown to black wavy hair, but he Skojare are pale skinned with blue eyes and blond hair. She also doesn't have Kanin abilities but eventually she overcomes them and turns into a successful tracker.
It starts out four years ago when one of the Högdragens, Konstantin Black, the youngest in recorded history who is the Queen's personal guard, almost killed Bryn's father. Now, Bryn always had a little crush on Konstantin for a while. He was her role model and hero but when he tried to kill her dad, she's out for his blood. Later on Konstantin reappears again from hiding and Bryn feels as if Konstantin is actually innocent in all of this and something bigger is happening. When she thinks of this, no one believes her and especially her boss, Ridley.
Ridley is a few years older than Bryn, but not by a lot. He is a retired tracker and is now the Rektor who is in charge of trackers, organizing placements, assigning changelings, and keeping everything in order. There's an apparent attraction between him and Bryn but it's totally forbidden.
There's, I guess, an apparent love triangle between Ridley, Bryn, and Konstantin. I like Ridley but I kind of like Konstantin more because we don't know much about him and he's the blame of everything but I think there's more to what's going on and we don't know what his motives are. He gives me this mysterious, broken soul kind of vibe. Either way, Bryn is attracted to both characters.
Reading this book, it goes by really fast and it's a different twist to the troll world. I would recommend it and bless Amanda Hocking for being a fast writer because the sequel is coming out really soon.
Rating: