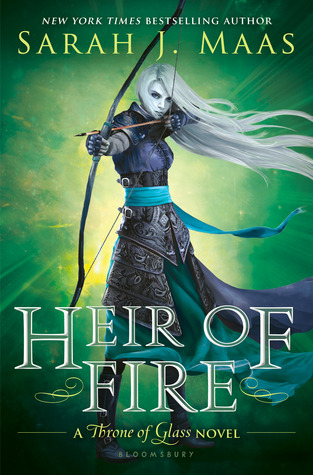 Publication Date: September 2, 2014
Publisher: Bloomsbury USA Childrens
Format: Hardcover
Page Count: 562 pages
Series: Throne of Glass #3
Synopsis:
She was the heir of ash and fire, and she would bow to no one.

Celaena Sardothien has survived deadly contests and shattering heartbreak—but at an unspeakable cost. Now she must travel to a new land to confront her darkest truth...a truth about her heritage that could change her life—and her future—forever.

Meanwhile, brutal and monstrous forces are gathering on the horizon, intent on enslaving her world. To defeat them, Celaena must find the strength to not only fight her inner demons but to battle the evil that is about to be unleashed.
Review (Non Spoilers & Spoilers)
:
This was definitely a step up from Crown of Midnight in my opinion. We get to see new characters, past characters, and so much character development for Celaena.
It still has the multiple POVs of Celaena, Chaol, and Dorian but the major addition I'd say is Manon. Manon is an ironteeth witch and overall I'm iffy about her, like I don't know what will happen with her character. I certainly don't like her in this book but we'll see. Other new character additions are Aedion, Sorscha, Maeve, Rowan, etc.
One character I want to highlight is Rowan. Damn. What can I say about him? Rowan is a fae prince and a warrior. At first, my reaction towards him was dislike because he can be cold-hearted and an asshole but when I continued through the book, he became one of my favorite characters in the series and I come to realize he's an amazing character.
The relationship between Celaena and Rowan is so great. Rowan challenges Celaena to grow mentally and physically with their trainings and helping her after them. They both have terrible back-stories and it makes them relate to each other which makes their friendship so heartfelt and they both can really connect.
Again, not much to say without any spoilers other than HIGHLY RECOMMEND READING THIS SERIES!
Now for the discussion…
(WARNING, SPOILER SECTION)
:
When I say Celaena's relationship with Rowan is great, I mean it's so great. After the first couple hundreds of pages of them fighting and arguing, to me, I start to see how well they work together. After the whole "burning" thing from Celaena and having Rowan taking care of her and having her sleep in his room, it made me love these characters together so much more. Rowaelin is perfect for each other like I mean, come on now. Ice/wind and fire?! THEY WERE BASICALLY MADE FOR EACH OTHER. It made me so happy when they realized they were carranams, which I feel is the equivalent to a parabatai from the Shadowhunting world. Like I feel Sarah J. Maass could not have done it better.
I'm not gonna lie, with Dorian in the first two books, I just though he's just there like I never really bothered but this book, he's just a lost and abandoned puppy. Then I felt the most sympathetic was when Sorscha died. Like from there on, I just felt really bad for Dorian. Like his life is really depressing.
Ah, the ending. This to me was like a parallel to Crown of Midnight. In CoM, Chaol and Celaena part and now Celaena and Rowan, BUT I feel from the direction this going, it's going to be so badass because Celaena comes to terms with being Aelin and it's just…great. Like not much to say other than endless praises for this series.
Rating: