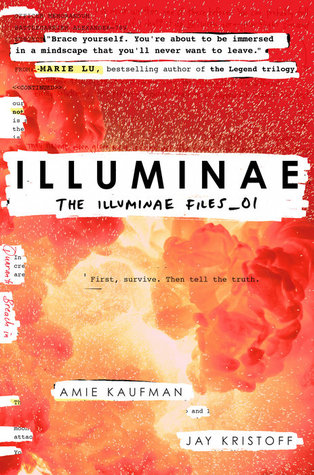 Publication Date: October 20, 2015
Publisher: Knopf Books for Young Readers/Listening Libary
Format: Hardcover/Audiobook
Page Count: 599 pages/
11 hrs and 41 mins
Series: The Illuminae Files #1
Synopsis:
This morning, Kady thought breaking up with Ezra was the hardest thing she'd have to do.

This afternoon, her planet was invaded.

The year is 2575, and two rival megacorporations are at war over a planet that's little more than an ice-covered speck at the edge of the universe. Too bad nobody thought to warn the people living on it. With enemy fire raining down on them, Kady and Ezra—who are barely even talking to each other—are forced to fight their way onto an evacuating fleet, with an enemy warship in hot pursuit.

But their problems are just getting started. A deadly plague has broken out and is mutating, with terrifying results; the fleet's AI, which should be protecting them, may actually be their enemy; and nobody in charge will say what's really going on. As Kady hacks into a tangled web of data to find the truth, it's clear only one person can help her bring it all to light: the ex-boyfriend she swore she'd never speak to again.
You guys have no idea how much I recommend listening to the audiobook while reading the physical book.
This book is told through hacked documents like interviews, instant messages, emails, etc., and listening it makes this ride so much better. This book itself is really complex and to be honest, I don't think I could get a hang of the format if I didn't have the audiobook with me.
This audiobook SLAYS all other audiobooks. This is a fucking production. Not once did this feel like an audiobook. With 20 narrators, many sound effects, space action scenes, and this Ghost ID character voice, IT'S PRACTICLY A SPACE OPERA MOVIE … or like those scripted radio show programs.
I won't say much because it is hard to break this book down but my favorite character has to be Ezra and the side characters James and well, he's not really a character per se, but the accented guy who does the surveillance footage summaries. These three characters for me were hilarious because the actors who voiced them really emphasized on some stuff and it really made me laugh out loud.
I will say how this book ended really surprised me. Like I was too invested with the story that I didn't see the bigger picture so now this makes me want the next book even more and I have way to many questions about what the actual heck just happened.
The only complaint I have about Illuminae is that so much happens in this book. The amount of action this has overwhelmed me. There's action after action after action. It's like I couldn't get a breather and for the people who binge read this, I applaud you. So much was happening and I had to take short breaks in the middle of it to be able to continue. Personally, I'm fine with a bit of action but a lot, not really my cup of tea. So, for y'all out there who loves plenty of action, this book is for you.
Not much to say because this book is very complex but other than for the people who have not read this yet, READ IT WITH AN AUDIOBOOK and for the people who has read it, GET THE AUDIOBOOK WITH THE BOOK WHEN THE SEQUEL IS RELEASED!

Rating: