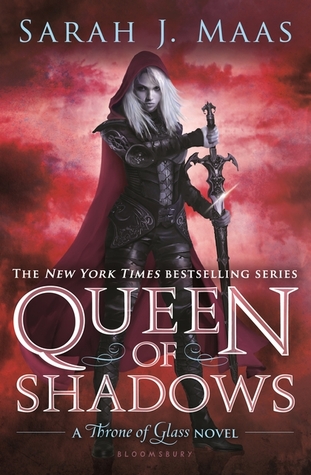 Publication Date: September 1, 2015
Publisher: Bloomsbury USA Childrens
Format: Hardcover
Page Count: 648 pages
Series: Throne of Glass #4

Synopsis:
The queen has returned.
Everyone Celaena Sardothien loves has been taken from her. But she's at last returned to the empire—for vengeance, to rescue her once-glorious kingdom, and to confront the shadows of her past…
She has embraced her identity as Aelin Galathynius, Queen of Terrasen. But before she can reclaim her throne, she must fight.
She will fight for her cousin, a warrior prepared to die for her. She will fight for her friend, a young man trapped in an unspeakable prison. And she will fight for her people, enslaved to a brutal king and awaiting their lost queen's triumphant return.

Review (Non Spoilers & Spoilers):
When I say this book is everything, this book is EVERYTHING! For the people who still haven't read this yet, what are you doing?!
At the very end of Heir of Fire, Celaena comes to terms with being Aelin, who is the heir of Terrasen and also a "fire-breathing bitch-queen".
When comparing this book to the first two, it's like as if it's not even the same plot. It seems like it's a whole different story and makes the first two like what was the whole point of it. Don't get me wrong, the first two are very important because it's the growth of Celaena, but to see it grow to something that I could never predicted is just mind-blowing.
This book did have some controversies because of the character development. I won't go through that much detail about it in this section but I will in the spoilers section. The character development in this was way off to one character specifically and for me, it didn't bother me as much as it did for other people. I could look past it and it's undeniable, even with the minor issue, that this book is amazing.
While reading this book, I did get confused with some of the storylines because I have not read the prequel. Even after reading it, I still regret it so before going into this, I HIGHLY recommend reading The Assassin's Blade before Queen of Shadows. It's not necessary but I feel it would've enhance the experience.
This book overall satisfied me so much. There's two books left in the series and I don't even know what to imagine next. Literally, the plot could go anywhere and I have so many theories but I'm pretty sure I'm not going to guess it right.
HIGHLY, HIGHLY, HIGHLY recommend reading this series and book!
Now for the spoiler filled discussion on what I thought
(WARNING SPOILER SECTION):
Okay, sorry Chaolena shippers but I have to say it: the Chaolena ship is TITANIC. IT SANK, IT'S DEAD, IT'S GONE. SORRY. I was a hardcore Team Chaolena in book 1 and 2, but book 3 and 4 happened. From the first reunion of Chaol and Aelin, there was so much hate. Chaol disliked Aelin and Aelin disliked Chaol. Like what happened to being, "I will always pick you." YOU ALL THOUGHT. I even thought it was true too. But honestly, I already came to terms with Chaolena sinking during Heir of Fire. It's just Chaol became so bitter in this book and I had enough with it. Like two books worth of character development, gone. But in the end he's sort of redeemed himself.
Poor Dorian. Every time there was a Dorian POV, there's nothing but sympathy for him. He is enslaved in his own body and is possessed by a Valg Prince and it's just very sad but eventually he is saved and is crowned King of Adarian. For Celorian shippers, I mean, it'd not to the point where it's like Chaolena –dead. I think, especially like near the end with Manon, there could be a hinted romance later on? Manon really needs someone to love her because under all the bitchy qualities that she has, I really feel she could be redeemed.
In the beginning, I was iffy about Lysandra but as the book progressed, I really, really like her and she turned out to be really cool. When Lysandra was about to kill Arobynn, I was about to die. This scene for me, I thought it felt too easy. Like Lysandra is about to kill the king of freaking assassins, like there's no way she's coming out alive, BUT SHE DID! Then later, Rowan reveals to everyone that Lysandra is a shapeshifter which made her even more awesome.
I was already on board with Rowaelin from the previous book, but this book, guys, I ship them so hardcore. Every scene with Rowan and Aelin, I kept rereading because I wanted to savior every bit of their relationship. Aelin will forever be my favorite character but ever since Rowan was introduced, he became a close second. There's no questions on where Aelin's and Rowan's relationship stands and hopefully Rowan and Aelin is endgame.
Like I said, I have no idea what will happen in the next book and I am very anxious to see how everything will be played out.
Rating: