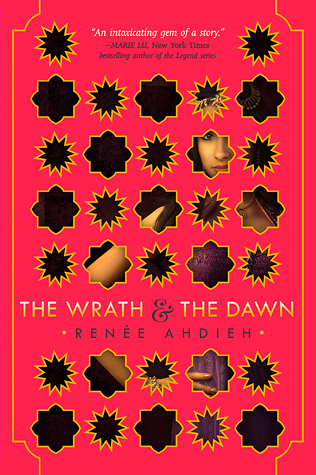 Publication Date: May 12, 2015
Publisher: G.P. Putnam's Sons Books for Young Readers
Format: E-book
Page Count: 416 pages
Series: The Wrath and the Dawn #1
Synopsis:
Every dawn brings horror to a different family in a land ruled by a killer. Khalid, the eighteen-year-old Caliph of Khorasan, takes a new bride each night only to have her executed at sunrise. So it is a suspicious surprise when sixteen-year-old Shahrzad volunteers to marry Khalid. But she does so with a clever plan to stay alive and exact revenge on the Caliph for the murder of her best friend and countless other girls. Shazi's wit and will, indeed, get her through to the dawn that no others have seen, but with a catch . . . she's falling in love with the very boy who killed her dearest friend.

She discovers that the murderous boy-king is not all that he seems and neither are the deaths of so many girls. Shazi is determined to uncover the reason for the murders and to break the cycle once and for all.
Shahrzad is out for revenge, but boy oh boy, it's flipped upside down. This book was inspired by A Thousand and One Nights, but personally, I feel it's more than a simple retelling.
The boy-king, Khalid, marries every night and kills them the next morning. The main character, Shahrzad, volunteers to be the King's next bride after her best friend, and many other girls were murdered. So essentially, she marries him and vows to take revenge by killing him. To insure her survival, she first convinces
Khalid to let her live until she finishes telling her stories (A Thousand and One Nights).
This is what happens at the very start, but after a few chapters, you start to realize that this book is way more complex.
This story is in third person, so we get to see characters other than Shazi like, Khlaid, her father, and her childhood lover, Tariq. So it's not just Shazi's story but many other subplots and hopefully it will be issued in the next book.
The thing I loved the most about this book was how well the two main characters were developed. Not once was I annoyed or want to skim over the pages.
I loved how much Shazi's and Khlaid's relationship has grown and developed. I will say in the beginning, it seemed a little cringe worthy when she starts to grow some interest to him but overall it was really good and I now have some sort of understanding of Khlaid.
Okay, that ending. All I have to say is, I need the sequel like ASAP!
I very much enjoyed this book and I highly recommend it!
Rating: