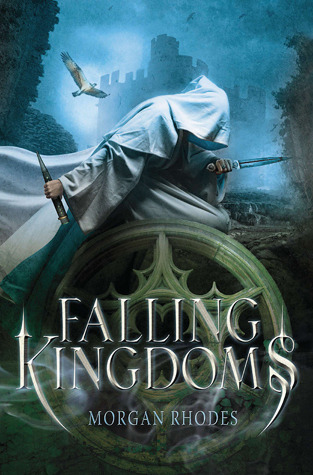 Publication Date: December 1, 2012
Publisher: Razorbill
Format: Hardcover
Page Count: 412 pages
Series: Falling Kingdoms #1
Synopsis:
In the three kingdoms of Mytica, magic has long been forgotten. And while hard-won peace has reigned for centuries, a deadly unrest now simmers below the surface.

As the rulers of each kingdom grapple for power, the lives of their subjects are brutally transformed... and four key players, royals and rebels alike, find their fates forever intertwined. Cleo, Jonas, Lucia, and Magnus are caught in a dizzying world of treacherous betrayals, shocking murders, secret alliances, and even unforeseen love.

The only outcome that's certain is that kingdoms will fall. Who will emerge triumphant when all they know has collapsed?

It's the eve of war.... Choose your side.
Review:
I was pretty hesitant to pick up this book after four years. The main reason for it is because of the multiple point of views in this book. I was worried about how can all the character from different backgrounds come together. However, it's great that all the characters connect very soon in the book so it's not an issue at all.
So there's four main characters: Cleo, Jonas, Magnus, and Lucia. Cleo is the youngest princess of the southern kingdom, Auranos, and lived a privileged life with her older sister and father. Jonas is from the middle kingdom, Paelsia, and his life is the opposite of Cleo's. He is the youngest son of a wine seller. Magnus is the prince of the northern kingdom, Limeros with his sister Lucia.
I won't be talking about the plot that much because of how soon it played out in the book. Give it at least three or four chapters and the plot will hit the ground running. What I will say is that there's a war fueling between these three kingdoms.
This is a great book for people who want to start reading fantasy. It has four perspectives coming from different backgrounds and kingdoms. There's a map and a whole character list in the first few pages of the book to make the reading experience easier. It's very political but nothing over the top where it gets confusing. It's really easy to understand, easy to follow, and overall a great read.
Rating: