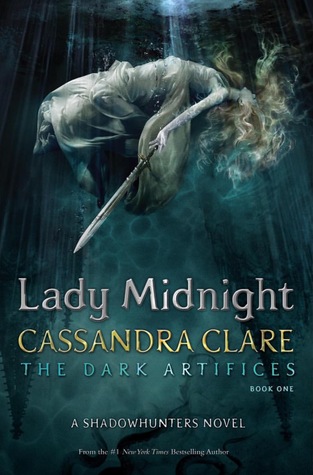 Publication Date: March 8, 2016
Publisher: Margaret K. McElderry Books
Format: Hardcover
Page Count: 720 pages
Series: The Dark Artifices #1
Synopsis:
It's been five years since the events of City of Heavenly Fire that brought the Shadowhunters to the brink of oblivion. Emma Carstairs is no longer a child in mourning, but a young woman bent on discovering what killed her parents and avenging her losses.

Together with her parabatai Julian Blackthorn, Emma must learn to trust her head and her heart as she investigates a demonic plot that stretches across Los Angeles, from the Sunset Strip to the enchanted sea that pounds the beaches of Santa Monica. If only her heart didn't lead her in treacherous directions…

Making things even more complicated, Julian's brother Mark—who was captured by the faeries five years ago—has been returned as a bargaining chip. The faeries are desperate to find out who is murdering their kind—and they need the Shadowhunters' help to do it. But time works differently in faerie, so Mark has barely aged and doesn't recognize his family. Can he ever truly return to them? Will the faeries really allow it?
Review (Non Spoiler & Spoilers):
THIS BOOK GAVE ME CLOSURE WITH EVERYTHING THAT HAPPENED, BUT THEN IT TORE ME APART.
For those who haven't read or is caught up with every Cassandra Clare book like the Infernal Devices and the Mortal Instruments, STAY AWAY FROM THIS BOOK!!! THERE ARE SPOILERS FROM THE PAST BOOKS EVEN THOUGH THIS IS A NEW SERIES! AND BY SPOILERS, I MEAN IT'S HELLA SPOILERY!
This sequel to TMI takes place 5 years after CoHF with a whole new set of characters and setting. Instead of New York, it takes place in Los Angeles. Even though we got a gist of the Shadowhunting world from previous series, this goes more in depth about it with talking about the laws and whatnot. What was great for me in this was how the new protagonist, Emma, grew up as a Shadowhunter so we were basically thrown in with all the action and thriller of it and we get to see it from a new perspective.
The beginning for me was a bit slow because I already used to the whole Shadowhunting world and knew what happened in the Mortal Instruments. So I felt the couple of hundred pages was an introduction of things for new readers and a recap for returners. But I will say it's not all about recapping what happened in the end of CoHF. It sets the tone of all the things that will go down in this series.
Another great thing about this book was that Cassie incorporated characters from previous books. The way Cassie wrote the references were so subtle like it wasn't a big thing and it didn't really affect the plot at all. It was small statements, mentioning names, or remembrance from the past to big ones like seeing the characters again. Looking back now, it wasn't really a big deal but THE MERE MENTION OF THE NAMES BROUGHT BACK SO MANY TID/TMI FEELS AND EMOTIONS.
Comparing this to the others, of course there's the overarching similarity that it's about the Shadowhunting world, but it can't compare because of how different it is with an amazing new storyline, new characters, and a completely different romance.
Not much to say without spoilers so go read this series. However I will end on this: THIS BOOK IS HELLA SPOILERY IF YOU HAVE NOT READ ALL OF CASSANDRA CLARE'S SHADOWHUNTER BOOKS!! YOU WILL BE SPOILED AF!! I WARNED YOU.
Spoiler filled discussion on what I thought (WARNING SPOILER SECTION):
Throughout the book, I'm just thinking, "Okay. How the hell is Emma and Julian gonna go down with this parabatai law and forbidden shit." The angsty romance they had just killed me. Then there was the scene where Emma and Julian were making out, and the next there having sex, and then it's the morning after. Then in the end, Emma pulls the "protecting you" card by pushing Julian away and it's just UGH. I know they had their reasons but in the back of my mind, I'm just saying, being parabatais was one of the worst things you guys have ever done. I mean, it does have it perks but falling in love is a huge no no.
And can I say, the feels for the characters from past books!! Now this ran me over. I got so much closure, yet wanting a bit more. Jace and Clary is running the institute and one of the most famous Shadowhunters yet. SIZZY IS ENGAGED HOLY SHIT. I DIED. When Mangus revealed that he and Alec adopted a warlock son, I COULD NOT BREATHE. Jem and Tessa were back and just EVERYTHING HAPPENED. THIS PAGE WOULD BE FILLED WITH CRYING EMOJIS IF IT WERE ALLOWED.
Basically that's my emotions right now but my theories for the next book is: Malcom is not dead, Julian will probably be an ass to Emma now, Kit will play a bigger role, and there's probably gonna be a rebellion against the Clave or something.
Rating: