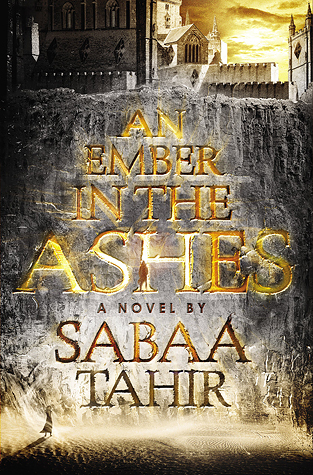 Publication Date: April 28, 2015
Publisher: Razorbill
Format: Hardcover
Page Count: 446 pages
Series: An Ember in the Ashes #1
Synopsis:
Laia is a slave.

Elias is a soldier.

Neither is free.

Under the Martial Empire, defiance is met with death. Those who do not vow their blood and bodies to the Emperor risk the execution of their loved ones and the destruction of all they hold dear.

It is in this brutal world, inspired by ancient Rome, that Laia lives with her grandparents and older brother. The family ekes out an existence in the Empire's impoverished backstreets. They do not challenge the Empire. They've seen what happens to those who do.
But when Laia's brother is arrested for treason, Laia is forced to make a decision. In exchange for help from rebels who promise to rescue her brother, she will risk her life to spy for them from within the Empire's greatest military academy.
There, Laia meets Elias, the school's finest soldier—and secretly, its most unwilling. Elias wants only to be free of the tyranny he's being trained to enforce. He and Laia will soon realize that their destinies are intertwined—and that their choices will change the fate of the Empire itself.
Review:
I cannot believe this book was supposed to be a standalone. How on earth can this be a standalone?!
I can't believe it took me this long to actually pick this up and read it. I could've read this the day it came out but no. Heck, I could've read this a few months ago but I still didn't! Long story short, I'm grateful I did now and I am so excited to see what will happen next in the series.
I could not put this book down. Granted the beginning was a little slow but overall I didn't mind it because there had to be some world building and introductions to things since it is the first book. Then when everything is settled down, it is so fast-paced, every chapter was left as a cliffhanger, and I had to read more of it until I finished the book.
I loved the two main characters, Laia and Elias. I like how Laia's and Elias's relationship was a slow build up. The romance in this wasn't too overbearing and it wasn't the main focus of this book –which I liked. Seeing both their perspectives in this book made everything so much interesting because Laia is a slave/spy and Elias is a soldier/son to the Commandant. So they're very different in that but in the long run, both their faiths are intertwined. Because their destinies are connected, we see they might not be that different from each other after all.
For secondary characters, I might be in the minority but I was not a huge fan of Helene. I'm not saying I don't like her personality. I'm saying I didn't like her morals and actions behind some things she did in this book. I did like Izzi. Her friendship with Laia was very much needed and I enjoyed every moment they had together.
Bless praise we get a sequel and I am so counting down the days for it. I don't know what else to say other than this book met my expectations and I SO RECOMMEND IT!