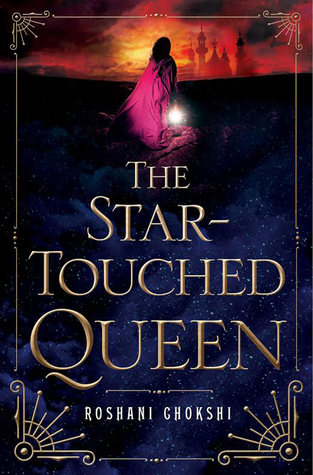 Publication Date: April 26, 2016
Publisher: St. Martin's Griffin
Format: Hardcover
Page Count: 342 pages
Series: The Star-Touched Queen #1
Synopsis:
Fate and fortune. Power and passion. What does it take to be the queen of a kingdom when you're only seventeen?

Maya is cursed. With a horoscope that promises a marriage of death and destruction, she has earned only the scorn and fear of her father's kingdom. Content to follow more scholarly pursuits, her whole world is torn apart when her father, the Raja, arranges a wedding of political convenience to quell outside rebellions. Soon Maya becomes the queen of Akaran and wife of Amar. Neither roles are what she expected: As Akaran's queen, she finds her voice and power. As Amar's wife, she finds something else entirely: Compassion. Protection. Desire…

But Akaran has its own secrets—thousands of locked doors, gardens of glass, and a tree that bears memories instead of fruit. Soon, Maya suspects her life is in danger. Yet who, besides her husband, can she trust? With the fate of the human and Otherworldly realms hanging in the balance, Maya must unravel an ancient mystery that spans reincarnated lives to save those she loves the most…including herself.
Review:
I really wanted to like this book. The beginning was promising but then as I kept reading, the characters just lacked for me.
First off, my reading experience with this book wasn't the best. On my Goodreads, you can tell that finishing this book was a struggle for me. I kept putting the book down multiple times. Here was my reading progress:
05/01
marked as: currently-reading
05/08
marked as: currently-reading
05/09
marked as: put-down-for-now
05/10
marked as: currently-reading
05/12
marked as: put-down-for-now
I really liked the beginning of the book but once we were near the middle, I lost all the ability to keep reading. I had to force myself to continue and finish it.
For me, the main reason it started to drag was the characters. I did not like Maya or Amar. Usually I'm into romances and instant love doesn't really bother me, but in this book, it did. It was all of a sudden and like it came out of nowhere. Maya, was weak and to put it nicely, very clueless and stupid. I did not relate to any of the characters and I just wished they were more developed.
I will say the writing is written beautifully and poetic. It flows and it's lyrical but sometimes it does go out of hand. Sometimes it goes off into a tangent and it doesn't really make any sense. Other times you just roll with it and get into all the metaphors and all that stuff.
Overall, even now I don't know what really ended up happening with the book. I was mostly confused and wanted this book to end. This book wasn't for me but, maybe it is for others.
Rating: