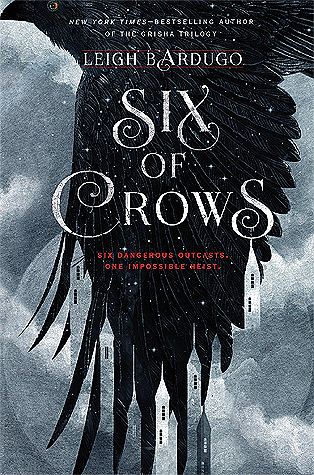 Publication Date: September 29, 2015
Publisher: Henry Holt and Company
Format: Hardcover
Page Count: 465 pages
Series: Six of Crows #1
Synopsis:
Ketterdam: a bustling hub of international trade where anything can be had for the right price—and no one knows that better than criminal prodigy Kaz Brekker. Kaz is offered a chance at a deadly heist that could make him rich beyond his wildest dreams. But he can't pull it off alone...

A convict with a thirst for revenge.

A sharpshooter who can't walk away from a wager.

A runaway with a privileged past.

A spy known as the Wraith.

A Heartrender using her magic to survive the slums.

A thief with a gift for unlikely escapes.

Kaz's crew are the only ones who might stand between the world and destruction—if they don't kill each other first.
I had ups and downs while reading this book but overall I enjoyed it.
What I like the most about this book was how unique and different the characters are from each other. There wasn't a character that overshadowed the other. It was more of a team effort. Just the bantering from the characters were my favorite parts of the entire book. Another thing was I kept forgetting these characters were like at least 16-18 years old. The way they act and do things makes it seem as if they were in their early 20s.
Even though this is told in multiple points of views, I have to highlight my favorite character, Inej, aka the spy known as the Wraith. She is such a fierce and kickass character that I am so rooting for in the end. Inej is so determined and doesn't take anyone's bullshit.
Plot wise, I did enjoy this book but maybe it was the hype? I couldn't really connect with it and I wasn't fully invested. I felt something in this was lacking but I don't know what. Maybe the thing with this book for me was it was really character based and their backstories that I was missing the actual heist of it all. I guess I was looking for a really action packed book. I mean, there was scenes that had action but not to the extent that I was looking forward to.
Overall I say it's still an enjoyable read. I'm looking forward to see what will happen next in this duology.
Rating: