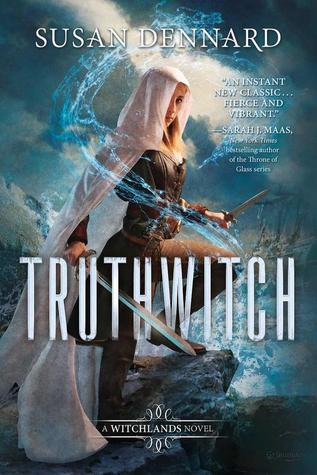 Publication Date: January 5, 2016
Publisher: Tor Teen
Format: Hardcover
Page Count: 412 pages
Series: The Witchlands #1
Synopsis:
In a continent on the edge of war, two witches hold its fate in their hands.

Young witches Safiya and Iseult have a habit of finding trouble. After clashing with a powerful Guildmaster and his ruthless Bloodwitch bodyguard, the friends are forced to flee their home.

Safi must avoid capture at all costs as she's a rare Truthwitch, able to discern truth from lies. Many would kill for her magic, so Safi must keep it hidden - lest she be used in the struggle between empires. And Iseult's true powers are hidden even from herself.

In a chance encounter at Court, Safi meets Prince Merik and makes him a reluctant ally. However, his help may not slow down the Bloodwitch now hot on the girls' heels. All Safi and Iseult want is their freedom, but danger lies ahead. With war coming, treaties breaking and a magical contagion sweeping the land, the friends will have to fight emperors and mercenaries alike. For some will stop at nothing to get their hands on a Truthwitch.
A book that is centered on friendship. It's definitely something I don't usually read but I enjoyed reading it.
Let's start with the world building
. For me, it was hazy and all over the place. It was confusing at times and everything is thrown at you all at once in the beginning but I guess it kind of settles down while you read on. I just wished there was something to help with all the different types of witches and empires because THERE'S SO MANY OF THEM. Maybe in the next book there will be more information about the cultures and history behind some empires.
Isuelt and Aeduan was the highlight of this book. I did prefer their chapters over Safi's and Malik's. Iseult is calm and always logical about things compared to Safi who is impulsive and fierce. Safi and Iseult completes each other and they are both nevertheless kickass characters. Merik is very pissy and has temper problems but under that, he's a good price trying to save his country. Now Aeduan is probably the most complex character out there, because you don't know his intentions and what side he'll be on in the future. Like is he an anti-hero? Is he straight out an antagonist? He's so mysterious and there's not much of who he really is.
The pacing of this story was a bit slow for my liking. Some things dragged and then some was rushed to a point where I don't remember parts in the book or I didn't connect with the plot or characters.
I didn't mind the romance in this. It didn't overshadow the plot which was good. Safi and Malik has a snappy type romance. Aeduan and Iseult is a slow burn romance (hopefully). It's a slow burn romance in that there's nothing there but maybe something in the future. It's not canon but I'm just saying I'm so on board with this ship.