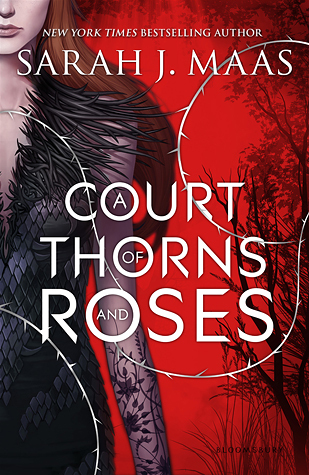 Publication Date: May 5, 2015
Publisher: Bloomsbury Children's
Format: Hardcover
Page Count: 416 pages
Series: A Court of Thorns and Roses #1
Synopsis:
When nineteen-year-old huntress Feyre kills a wolf in the woods, a beast-like creature arrives to demand retribution for it. Dragged to a treacherous magical land she only knows about from legends, Feyre discovers that her captor is not an animal, but Tamlin—one of the lethal, immortal faeries who once ruled their world.

As she dwells on his estate, her feelings for Tamlin transform from icy hostility into a fiery passion that burns through every lie and warning she's been told about the beautiful, dangerous world of the Fae. But an ancient, wicked shadow grows over the faerie lands, and Feyre must find a way to stop it... or doom Tamlin—and his world—forever.
Apparently, this is a retelling of Beauty and the Beast mixed with faeries. I knew about this when it was released but I guess while reading it, I forgot about it and it never really processed in my mind until after reading it?
I am in desperate need for third POV. I didn't realize this whole book was in Feyre's point of view until like after several chapters. For me, without third POV, I was more confused and limited so it was hard for me to getting use to with this type of book.
I think the main problem I had with this book was it started out really slow and it wasn't until probably 200 pages in where the actions was starting to happen. Also to me, Feyre wasn't as strong of a lead where I wanted. I mean, yeah she's human in a fae realm and she's a huntress, but still. In some of the situations Feyre been in, it makes me want to question her and reevaluate her role as a lead. This book has complex characters that I wish was clarified more, but maybe we'll see it in the sequel?
Okay for the ship. I'm not sold on to any character yet. While reading this, I thought there was no way there's another guy other than Tamlin, but apparently there is? Like I didn't even know Rhysand was an option.
Rhysand is a shady, complex character but I will admit he is interesting because of the mystery of who he is, but it still doesn't really changes my judgment due to the things he did in this book. Then I start to feel for him when he starts to kind of open up and we get to see more in his character but obviously, he had his reasons but I don't know how I feel overall about him. The only thing I can compare him to is Damon from the Vampire Diaries.
For now, I'm leaning towards Tamlin because two thirds of this book showed more Tamlin and Feyre's romance versus the small chapters with Rhysand and I actually like Tamlin in general because of how sweet he was to Feyre after getting used to her. But honestly, it could go both ways because y'know, this is Sarah J. Maas.
The climax and near ending was probably my favorite scene out of this entire book. I was surprised and like finally figuring why some things happened before in the book. I was pleased of how most of the things turned out.
This was a solid start. I was iffy about some things in the book but I enjoyed it. There's not much for me to theorize or to say other than I can't wait to find out what happens next.